China Has Built A Solar Power Plant Shaped Like A Panda – 
China has built a 248-acre power plant in the shape of a panda. There's a sentence I never thought I'd use.
The huge panda power plant is a vast improvement on the boring grid-like solar plants were used to seeing.
It looks a lot like this fella:
Credit: Kung Fu Panda/Dreamworks
I'm a big fan of this, are you?
The Panda Power Plant, which is based in Datong, Shanxi, was built by China Merchants New Energy Group and is backed by the United Nations Development Programme (UNDP). The project's creators are hopeful that the plant will play a role in getting younger people to engage with sustainable energy, reports the Independent.
This is just the start for Panda power plants. Credit: Panda Green Energy
Panda Green Energy's CEO, Li Yuan said last year: "Designing the plant in the shape of a panda could inspire young people and get them interest in the applications of solar power."
Panda Green Energy completes first phase #panda solar power plant! Check out our partnership here! https://t.co/ugkdLbFqgn #renewables #SDGs pic.twitter.com/7xg4irAwIU

— UNDP China (@UNDPChina) July 5, 2017
As well as being cute, once it's fully up and running it will have a capacity of 100MW, bringing 3.2billion kWh of environmentally-friendly electricity in 25 years.
If that's all a bit too much for you to get your head around, then in real terms, the Panda Power Plant will eliminate the use of around 1.056million tons of coal, reducing 2.74million tons of carbon dioxide emissions.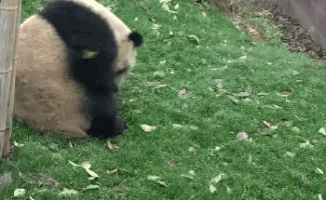 Panda Green Energy are hoping to bring more panda power stations to countries including the Philippines and Fiji, with the end goal of building 100 across the world within the next five years.
So, well done, Panda.
Facebook Comments